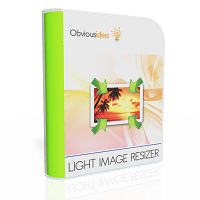 Light Image Resizer
is useful software to resize picture, convert to other formats, add watermark to image, and more. The image formats supported by this software JPEG, CR2 (Canon RAW), NEF (Nikon RAW), DNG (Adobe), GIF, ICO, PNG, PSD (Photoshop)
,
TIFF, BMP and more.
This program is also easy user-friendly and lightweight (8.45 MB) and no need high resource hardwares. Light Image Resizer is suitable for those of you who often many worked with using the images like presentation, web publishing or share images with others.
Light Image Resizer previously known as VSO Image resizer and the latest version of this software is version 4.0
.
Normally price of this Obvious Ides software is $14.99 for one use license
.
If you have a facebook account, you can get this software for free.
Light Image Resizer Features :
Resize, compress, convert, and create copies of your pictures
High quality results with fast multi-core resize technology
Create and e-mail friendly images or use them for web publishing
Rename, sort or add a watermark to protect your pictures.
How to Genuine License Key Light Image Resizer
Open obvious idea facebook page at: http://www.facebook.com/ObviousIdea
Click like button then click "Get Free Light Image Resizer" on the left sidebar
Copy the license key on the page and use the key to activate the software
Download :
Light Image Resizer 4.0.4.3